This introductory material serves different purposes:
to introduce vehicle dynamics, power generation need and thermal efficiency,
to illustrate the Engine Control System for different powertrain architectures.
This material can be used by both the teacher and the student for preliminary explanations.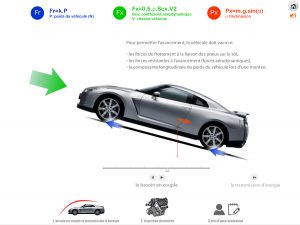 Estimated time: 15 to 20mn
Language: French version
Sound: Yes
Evaluation: Self-corrected exercises
Technology: 2D illustrations & animations
Other: Contextual Menu.
Automoción / propulsión / introducción